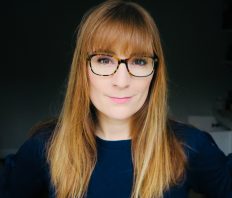 I'm a copywriter, creative director and occasional photographer. I've enjoyed over a decade in the advertising industry, working in New York and London on brands such as Google, MTV, Microsoft and Royal Caribbean. Some career highlights include nearly shooting a Super Bowl spot, writing Christmas songs about car parts, doing handstands for a whisky distillery and creating an ice cave for an Olympic skater.
I specialise in social content and integrated campaigns but I've done a bit of everything, from million-dollar TV adverts to banners and brochures – and all the other digital, traditional and experiential stuff in between.
I laugh at my own jokes. I write quickly and prolifically. I love solving problems. Drop me a line at maggimachado@gmail.com and let's make something amazing.
If you're still not convinced, read some of my reviews:
"Maggi is extremely hard working, diligent and takes the creative process seriously and with enthusiasm. She understands the production process well too, which in a content agency environment is a valuable asset. Maggi will deliver strong creative ideas which consider the budget and scheduling constraints of the project.
Maggi is great in pitches. She makes a great effort to deliver pitches with high energy, positivity and in the case when characters may be involved with a creative route, nuanced and fun performances! These have always been received very well by clients, as it very clearly expresses the ideas, which can sometimes be challenging to communicate effectively to clients when there are only words on a page to express an idea. Maggi communicates well with clients and it is clear they enjoy collaborating with her on projects."
– Julie Cohen, Owner, Across the Pond
"First, let's just get it out on the table. Moving from New York to London makes Maggi a counter-revolutionary. But don't let that dissuade you; counter-revolutionaries tend be very hardworking, highly creative and capable of living in the woods for weeks at a time, foraging for nuts and berries. Maggi excels in all these qualities, particularly the first two. A great pleasure to work with, with a fine eye for art and witty ear for copy, hardworking, dedicated, usually cheerful and silly when necessary. She left a gaping hole on this side of the pond while delivering a great gift to the Isles. You're welcome."
– Andrew Jeske, Creative Director, Y&R
"Do I recommend Maggi to future employers? Sure I do. It's an easy thing to do– because I don't happen to own my own agency. Because if I did, there is NO WAY I would recommend her to anyone else. I would hire her MYSELF in a heartbeat and be glad I snapped up the best kept secret in the world of copywriting. Because I'm selfish that way. I happen to value smart writing and strategic thinking and one hell of a work ethic. (And on the subject of work ethic–the girl never stops thinking. Frankly, her output makes other people look like slackers) So, yeah. I would recommend Maggi. But you better snap her up before Sterling Cooper Draper Rooney gets up and running."
– Rob Rooney, Creative Director, Y&R
"If the Dalai Lama, Maggi Machado and I were on a sinking ship and I could only save one, which would it be? Easy. I'd save Maggi. Yeah, I know the world is fraught with war, famine and pestilence, but more importantly it's filled with crappy advertising. And since Maggi… excels in concept, design and execution, she'd not only be capable of doing great work that sells products, she'd also be able to craft hard-hitting public service ads that could go a long way toward making the world a better place. The way I figure it, the Dalai Lama's going straight to heaven anyway. And from what I hear, his Photoshop skills are overrated."
– Bernie Hogya, SVP, Group Creative Director, Deutsch NY